Get Up & Go
Southern Vietnam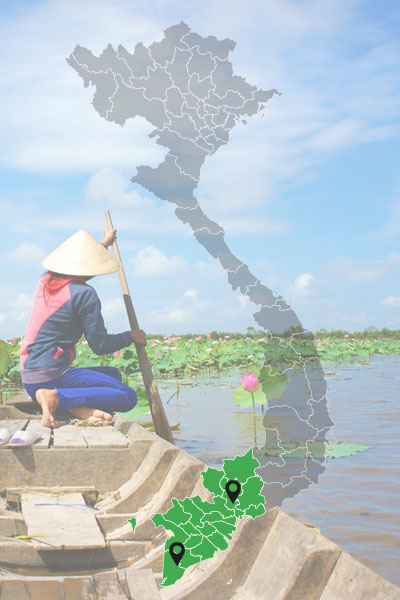 The southern part of Vietnam is a pretty divers part of the country. Ho Chi Minh City, formerly known as Saigon, is the largest city of the country and played a decisive role in the Vietnam War. Nowadays it is a very busy and lively city where the high contrast mix between commerce and culture drives the city forward. It is furthermore for a lot of visitors the start point of their Vietnam trip and the base for trips to the Central Highlands, Cu Chi Tunnels and the Mekong Delta. From Ho chi inh City it is also fairly easy to reach beach areas like Mui Ne and Phu Quoc or for ongoing travels towards Cambodia.
The mountainous Central Highlands north of Ho Chi Minh City have a climate that is generally cooler compared to the rest of the country. Due to the cooler weather, Dalat (Đà Lạt) was a popular city for the French fleeing the heat of Saigon (Ho Chi Minh City). For those interested in tranquility and authentic Vietnam, ethnic population and untouched nature, pine forests, lakes and waterfalls, Dalat, Buon Ma Thuot and Pleiku are the place to be. We offer nice options by motorbike with the real Easy Riders. Today, Dalat is the absolute Mecca for adrenaline-fueled activities, canyoning, zip lining, hiking, rappelling waterfalls, rock jumping and natural water slides. An adventurous day trip to nearby waterfalls such as Datanla waterfalls is every adrenaline junkie's dream.
The Mekong Delta, south of Ho Chi Minh City, is known to many as Vietnam's "Heartland," has always been an incredible draw to tourists as it celebrates the modest beginnings of the country. Beyond the picturesque natural waterways and beauty of the area, its warm and friendly local people paint a true portrait of happiness, hard work and community that is lacking in many parts of the world today.
Take a leisurely sampan ride along the river, capture the stilt houses on camera, tour around the islets, have lunch in an orchard and gain a fascinating insight into the lives of those who live and work in this lushly rich landscape. The Great Holy See Temple is considered one of the most striking structures in all of South- East Asia. It is the headquarters of the unique Cao Dai sect, a religious hybrid, incorporating Buddhism, Christianity & Confucianism.
Address
13 Bat Su Street Hoan Kiem District,
Hanoi City, Vietnam