PLEASE READ THIS CAREFULLY!
There used to be 2 ways to get your visa for Vietnam;
1. To apply for a so called Approval Letter
2. To apply for an e-visa
At this moment the only way to apply for your visa for Vietnam e-visa. Immigration does not issue Approval Letters for tourists! You can of course always contact us for the correct link for that.
JUST $5 FOR A 1 MONTH SINGLE ENTRY APPROVAL LETTER
Please note that an Approval Letter is not a visa and only 
works when you fly into Vietnam. Travelling by land requires a pre-arranged visa. 
Get Up And Go Vietnam 
can arrange an
Approval Letter
 (visa authorisation letter) safely and quickly for you.As said, an AL is a formal document that gives you permissions to fly to Vietnam (you will be denied on your flight without a visa or an AL!).
On arrival at any International airport in Vietnam you need to proceed to the Visa on Arrival desk and apply for a Visa on Arrival. For this you need to handover the following information:
1. Approval Letter (from us)
2. Filled in Application Form (we will send this form to you)
3. Passport picture
4. Passport (valid for at least 6 months)
5. Visa stamping fee of $25 (for single entry 1 month visa)
You'll be given back your passport with visa shortly after. To directly apply for you Approval Letter you can use the link below which will leed to an online fill-in form. After completing this form (make sure that it is complete and correct) click submit and we will see it in our system and we will apply for the Approval Letter after payment. Once we received the AL, we will send it to you along with the Application Form and all other information about the procedure at the airport. Normally the application process for the Approval Letter takes 2 to 3 working days. Please remind that the immigration office is closed on Saturdays and Sundays. Please keep this in mind when you apply!
Please be aware that Get Up And Go Vietnam cannot be held responsible for incorrect submitted information. For Dutch citizens for example passport numbers don't contain the 
letter O
 so this should always be the 
number 0
. Our system is also set up that dates should be entered as 
month, day and year, MM-DD-YYYY
. It is always possible to send
(info@getupandgovietnam.com)
us a copy of your passport anyway so we can take full responsibility for your application.
The standard fees we charge for these document, for most countries*, are:
Approval Letter for a single entry 1-month visa $5 per person
Approval Letter for a multi entry 1-month visa $12 per person
Approval Letter for a single entry 3-month visa $13 per person
Approval Letter for a multi entry 3-month visa $23 per person
Effectively, an Approval Letter for a 1-month visa is 30 days and for a 3=month Approval Letter it is 85 days. Please keep this in mind during your application!
Stamping fee is the fee you are required to pay at the International Airport Immigration Counter in order to get the official visa stamped in your passport. The stamp fee can be paid in cash Vietnamese Dong, USD or Euro. Credit cards are not accepted yet but ATM's are available
One month and three month single entry – $ 25/ per person
One month (30 days) multiple and three months multiple entries – $50/ per person
VIETNAM VISA EXEMPTION LIST
Below the countries that don't need a visa to Vietnam for a short stay:
Myanmar 30 days
Japan 15 days
South Korea 15 days
Philippines 21 days
Singapore 30 days
Thailand 30 days
Malsaysia 30 days
Laos 30 days
Indonesia 30 days
Brunei 14 days
Cambodia 30 days
Sweden 15 days
Finland 15 days
Denmark 15 days
Norway 15 days
Russia 15 days
Please don't hesitate to contact us for more information.
* There are a few countries that require a higher fee, we will inform you a.s.a.p. if this is the case for your application.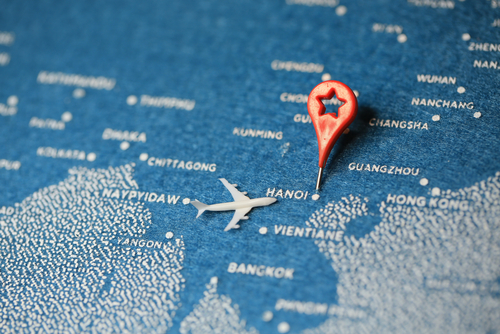 Address
24 Hang Buom Street, Hoan Kiem District,
Hanoi City, Vietnam